Health Benefits : Chia Seed Immune Support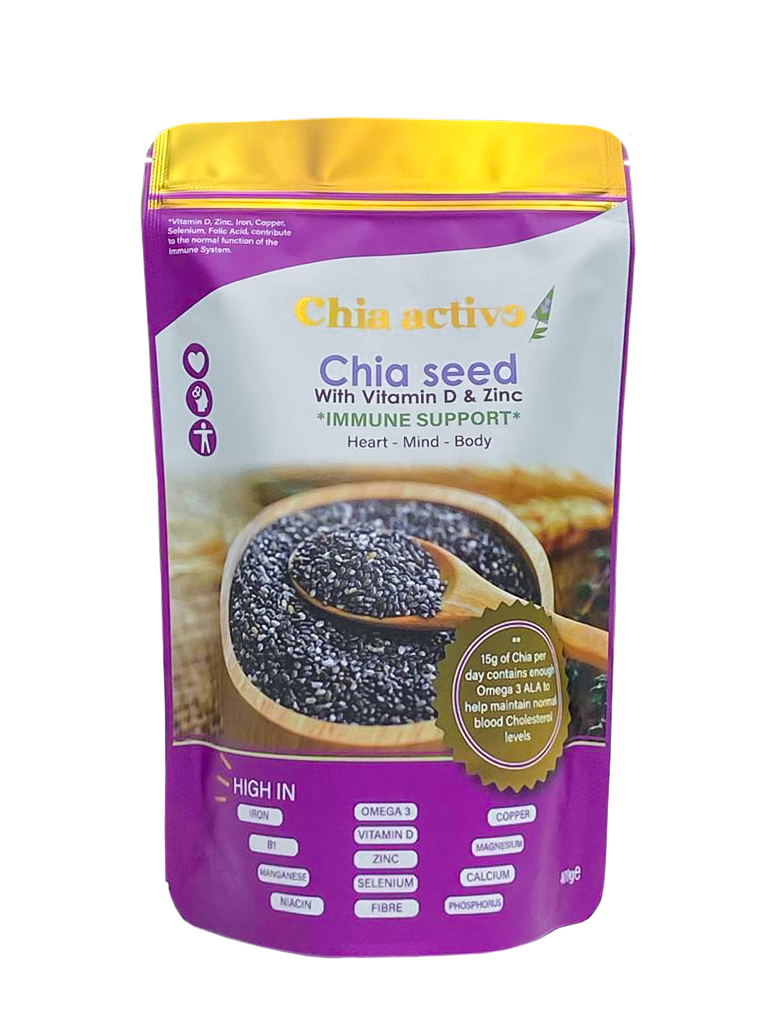 Heart Health
Omega 3 , Folic Acid , Copper, Niacin (B3), Thiamine (B1)
Immune Support
Vitamin D, Zinc, Copper, Selenium, Iron, Folic Acid.
Energy
Magnesium, Iron, Protein, Niacin, Folic Acid, Calcium, Phosphorus, copper, Manganese
Joint Health:
Omega 3, Protein, Vitamin D, Calcium, Manganese, Phosphorus, Magnesium, Zinc.
Nervous System
Niacin, Potassium, Magnesium, Copper.
Cell Division
Vitamin D, Folic Acid, Calcium, Magnesium, Iron, Zinc.
Cell Protection from Oxidative Stress ( Free Radicals )
Selenium, Manganese, Copper, Zinc.
*One portion of Chia daily contains enough Omega 3 ALA to help maintain normal blood Cholesterol Levels.
*Vitamin D, Zinc Iron , Copper Selenium , Folic Acid contribute to the normal function of the Immune System.
*Copper contributes to normal function of the Nervous System and maintenance of normal connective tissues.
*Magnesium contributes to normal Energy- yielding metabolism.
*Iron contributes to the reduction of Tiredness and Fatigue .
*Gluten free
* Chia seed Immune Support is also High in Fibre, Source of Protein and contains 10 essential Amino Acids.